PG-Diploma in Operation Management
Department name
Department of Maritime Management
Intake
PO1: To equip the participants of the programme with the basic knowledge of functional areas of Management.
PO2: To give practical exposure in the subjects with the help of case studies and examples.
PO3: To help enhance the knowledge and skills in Management.
PO4: To improve the employability of graduates.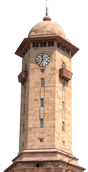 Cartographical Training on Transformation of Manual GIS to Next generation Digital GIS
Register Now
More Details