PG-Diploma in Clinical Embryology & Assisted Reproductive Technology
Department name
Department of Biochemistry & Forensic Science
| Semester | Sr no | CourseCode | Course | CourseCredit |
| --- | --- | --- | --- | --- |
| Sem-1 | 1 | ART-401 | Anatomy, physiology of Male reproductive organ and Infertility | 4 |
| Sem-1 | 2 | ART-402 | Anatomy, physiology of Female reproductive organ and Infertility | 4 |
| Sem-1 | 3 | ART-403 | Clinical Embryology | 4 |
| Sem-2 | 1 | ART-404 | Standards, guidelines & Instrumentation/ Training | 4 |
| Sem-2 | 2 | ART-405 | Project / Dissertation Work Theory | 4 |
Intake
PO1: Apply the scientific temperament and be sensitized about their social responsibilities as being part of the scientific community.
PO2: Employ critical thinking and the scientific knowledge to design, carry out, record and analyze the results.
PO3: Imply theoretical and experimental skills ofReproductive Technology in real-life setup.
PO4: This programme, with dissertation projects, imparts competent skills to thrive in research institutions, laboratory, clinical research organizations and fertility clinics.
PSO1: In depth knowledge and skillsets are addressed with respect to bioethics, clinical laboratory safety, biosafety in the domain of Artificial Reproductive Technology.
PSO2: Significant portion of this programme is dedicated to human anatomy, physiology, health and hygiene along with focus on good lab practices insynchrony with theguidelines of regulatory affairs, international norms and of public health agencies.
PSO3: The knowledge of Reproductive Technology provided in depth with their diversity, health benefits and hazards with their ethical knowledge is imparted.
PSO4: The programme also involves activities for all round development of students and to develop an urge of research dissertation work with interactive seminars, assignments, group discussionsalong withethical and biosafety training.
PSO5: The programme emphasizes for development offundamental knowledge pertaining to the concepts of basic biology with specials emphasis on concepts of Artificial Reproductive Technology.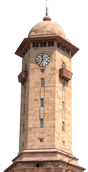 Cartographical Training on Transformation of Manual GIS to Next generation Digital GIS
Register Now
More Details