Pre-Arrival Information
The student should book the ticket up to the airport nearest to the place of University where the admission has been confirmed. While booking the tickets, students must ensure that there is sufficient gap between the timings of the connecting flights so that there is enough time to complete the transit formalities, particularly in view of the Covid-19 induced restrictions and delays thereof. There have been instances when the students have missed their connecting flights due to insufficient layover.
The student should check the allowed baggage regulations. There may be difference of baggage allowance in domestic and international flights. Students must carry the baggage equivalent to the limit of the lower category (domestic/international). In any case,
Immediately on purchase of ticket, the students should mail their travel details on e-mail given to enable Gujarat University make necessary arrangement for reception at airport. Flight details should ideally be conveyed at least 15 days prior to the journey. If airport reception is not required, students should specifically mention that they do not require any assistance at the airport on arrival.
Students should go through the Covid Protocol/ requirements such as RT-PCR test/ quarantine requirements and follow the same to avoid any complications
Students should carry yellow fever vaccination certificate wherever necessary.
Students are advised to carry with themselves US$ 1000 (at least equivalent to Rs. 75,000/-) to meet immediate expenses.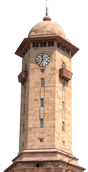 Gujarat University
Admission 2023
More Details